Petite Magnolia Client Wardrobe
As you know, I provide my mama's with a closet full of dresses to choose from. I'm asked why I choose to do this and wanted to clarify today!
Part of my brand is cohesiveness. There are textures, colors, and lighting that all play a huge part in achieving a cohesive brand. It takes time, practice, and intention to achieve, as well. Providing my clients with wardrobe options kills two birds with one stone – cohesiveness and ease! In addition to branding, there are a TON of barriers to entry for photographers! Pricing, time, wrangling up kids to cooperate – those are all hard barriers of entry for a client to a photographer. It can feel overwhelming the moment you decide to take family photos. What do we wear? Where do we go? Who will do it? Offering dresses for moms and wardrobe options for little ones helps take the stress off of your plate completely. I even send over suggestions for dad's so that he can come ready to go while you get ready!
Below are all of my long sleeve dresses. A lot of the time, a mom will feel self-conscious of her arms and I totally get it! These are all beautiful options that will flatter a wide range of figures.
If you see a dress you love and want to wear for your own family, maternity, or newborn session, please let me know!
Petite Magnolia Client Wardrobe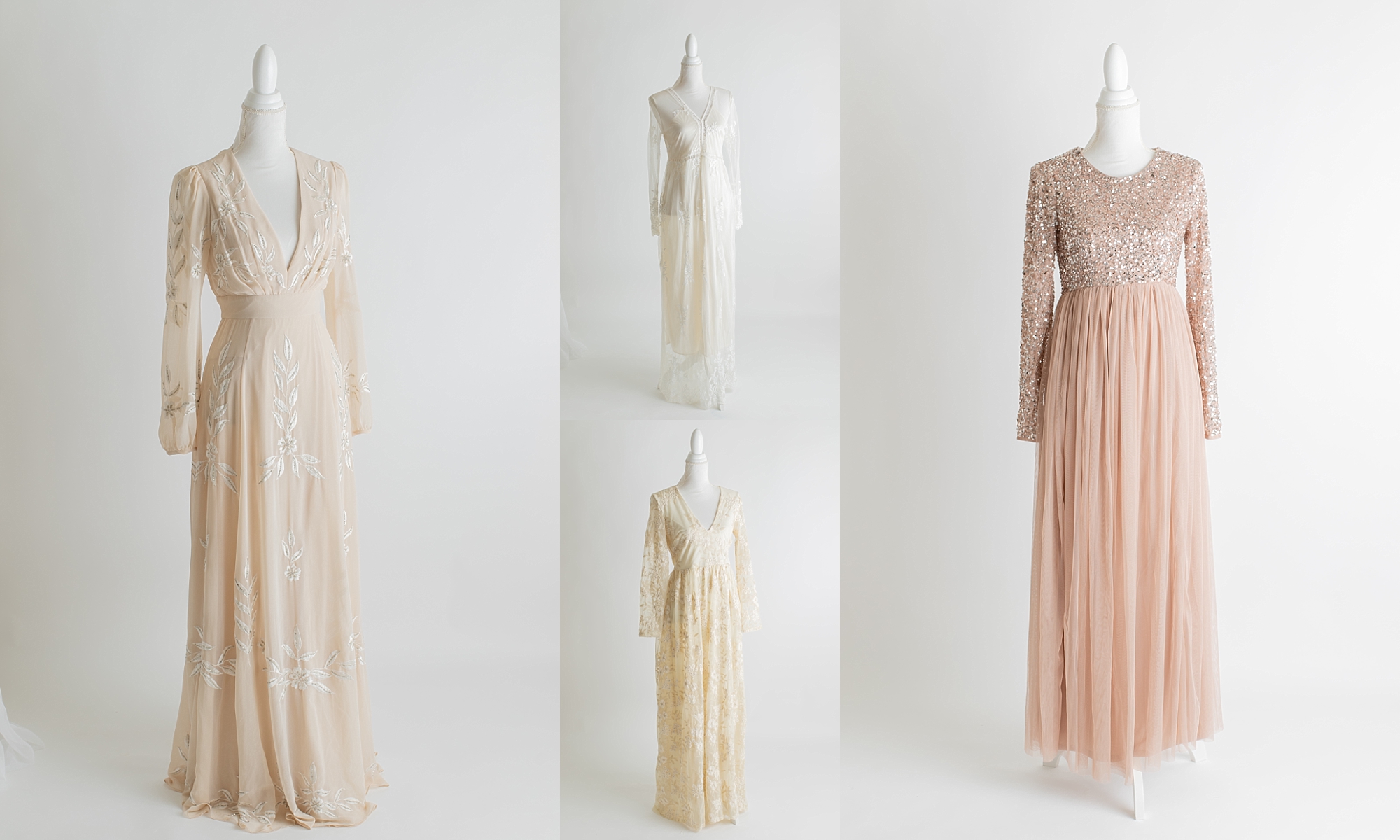 Petite Magnolia Client Wardrobe
Petite Magnolia Photography specializes in maternity, newborn, motherhood, baby & family photography in the Pittsburgh area including but not limited to Upper St. Clair, Mt. Lebanon, Peters Township, Canonsburg, Venetia, McMurray, Jefferson Hills, Cranberry & Wexford. 
Thank you so much for checking out my blog and I hope that my work speaks to you.  I would love to tell you more about a milestone session in the studio.  From the very beginning, every detail is thought through including hair & makeup, wardrobe, and location making your experience as enjoyable and stress-free as possible.  If you are interested in a custom portrait session with Petite Magnolia Photography and would like more information, please click here (or the contact button above) or email me directly at petitemagnoliaphoto@gmail.com. 
Sessions are currently booking into late  2020.  To ensure availability, please reserve your date early.