Pumpkin Bread Recipe
Pumpkin Bread Recipe
This is one of my absolute favorite pumpkin bread recipes ever- it's super simple and my kids absolutely love it.  it's become a staple in our house and thankfully the recipe makes 2 loaves.  It also freezes beautifully! This sweet treat is great just as it is or with a sprinkle of mini chocolate chips or peanut butter chips on top.
Quick tips & tricks: I love using coconut sugar as well as substituting applesauce for half the butter.  I rarely have ground ginger or cloves in my pantry but I do always have a jar of pumpkin pie spice.  I don't really measure it our but I give a few good shakes of the pumpkin pie spice and then add the baking soda, salt and ground cinnamon.
pumpkin bread recipe 
3 1/2 cups all purpose flour
1 Tb. baking powder
2 tsps. ground ginger
1 tsp. each: baking soda, salt, and ground cinnamon
1/2 tsp ground cloves
4 large eggs, beaten
1 1/2 cups of granulated sugar
1 cup light brown sugar
2 sticks (1 cup) butter, melted
1 can (15 oz) pure pumpkin
pumpkin bread recipe 
-Grease and flour two 9-by-5 inch loaf pans.  Adjust oven rack to lower middle position and heat oven to 350 degrees.  Mix flour, baking powder, ginger, baking soda, salt, cinnamon and cloves in a large bowl.
-Meanwhile, whisk eggs and sugars in a medium bowl.  Whisk in butter until fully incorporated and then pumpkin.  Beat wet ingredients into dry ingredients until smooth; divide evenly between pans.
-Bake until golden brown and cake tester comes out clean, about 50 minutes.  Let cool a few minutes.  Run a knife around pan to loosen bread.  Turn onto a wire rack to cool completely.
-Enjoy!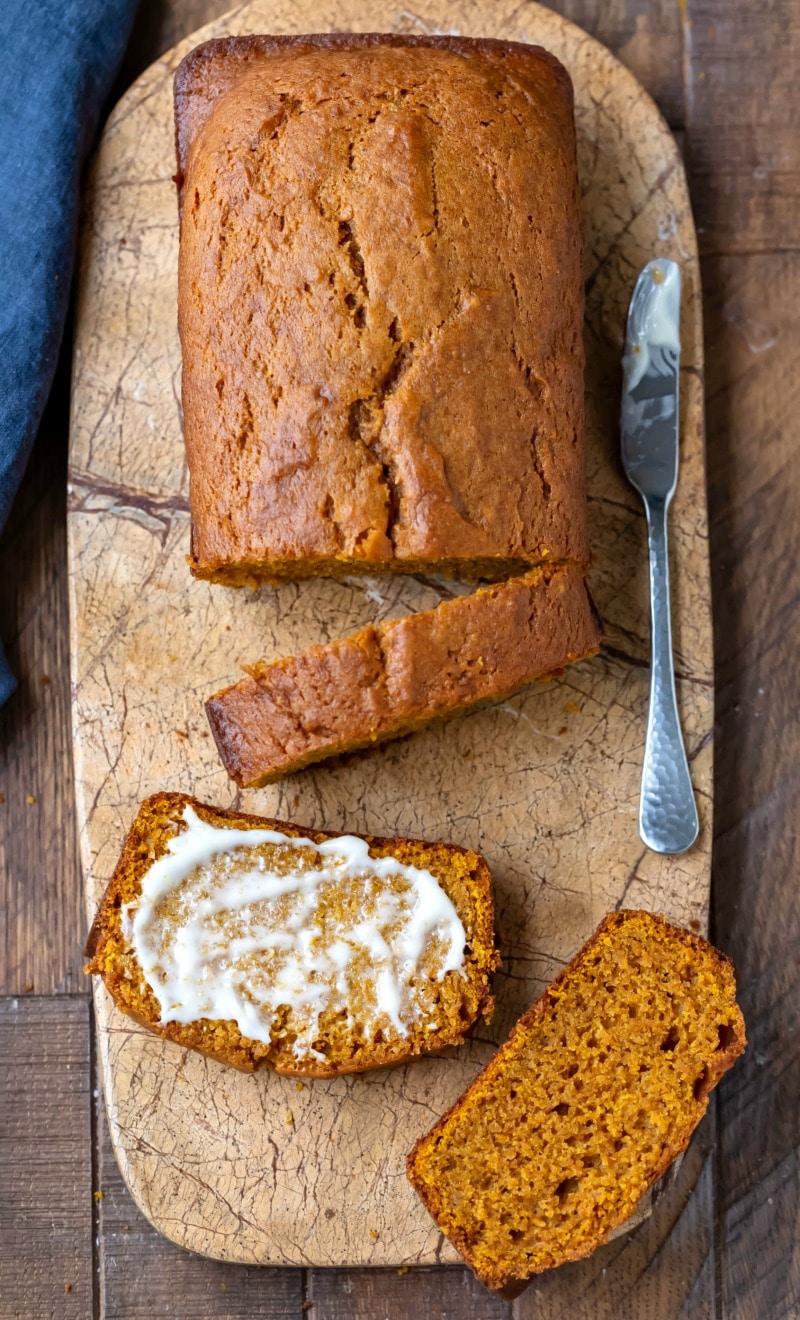 Looking for a great vegan option? Check this recipe out!
Pumpkin Bread Recipe